Simple solutions with user-friendly tools
Simplicity is at the heart of iLoveIMG. Our user-friendly interface and intuitive tools make it easy for even first-time users to navigate and get the job done without any technical hiccups.
What matters to you, matters to us
When it comes to dealing with your files, it is our task and duty to provide the best possible service
The importance of a file
We strive to bring you the smallest file size possible while maintaining the quality at its best.
Your security is our concern
In order to combat file theft, we automatically eliminate all your archives within two hours.
Profit from time well spent
Though it won't be much time at all, we guarantee it
We'll help you save time and effort
We believe that you should spend more time outdoors taking pictures than editing them. Our servers upload, process and download your files at high-speed. So as long as you have a good internet connection, your images will be revealed in a flash.
Manage your images with freedom
Edit, compress, crop, convert, resize, frame, etc your images in bulk. The options at your disposal are plentiful and you can do so with a clean interface that provides you the utmost comfort while working on them.
Don't worry, you're safe with us
We know the internet is a complex and sometimes daunting place, but we have you covered on all fronts
Save data working straight from the cloud
We are integrated with Google Drive and Dropbox. This allows you to download your files from the cloud to our page. Then, after processing, you can save them back to your cloud-based accounts.
Your artwork is safe with us
You may have taken a world award-winning photograph or just finished editing a masterpiece. Don't worry, all what you upload is encrypted and we follow through by shredding all images from our servers… a la Banksy.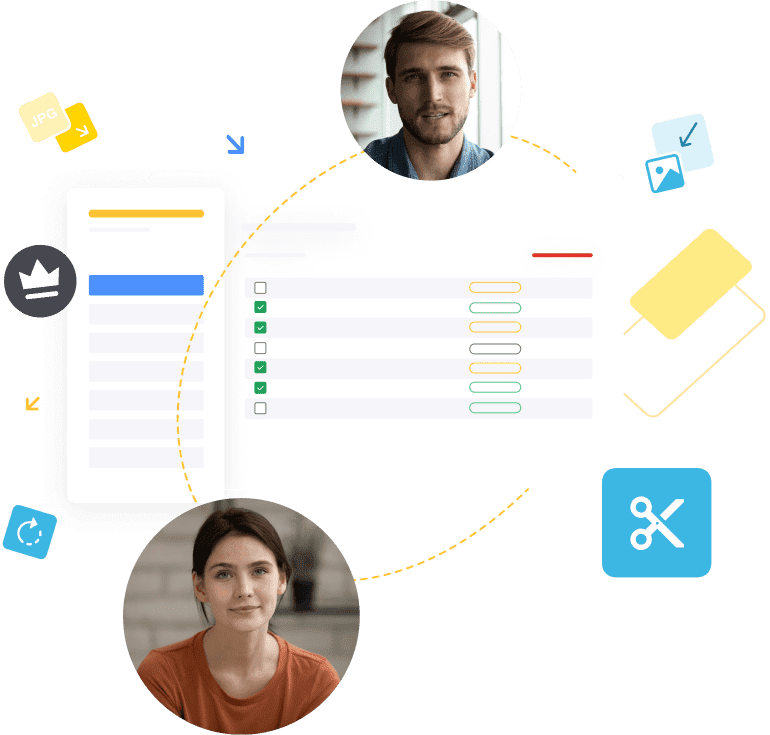 Get even more with Premium
Sometimes you just require a little something extra. Upgrade your iLoveIMG experience and boost your image productivity
Create a team
Premium features include adding members and managing users in your own team so as to share default actions and presets. You could share a watermark, established image sizes, etc.
Power up your tools
Take our tools to the next level and get the job done faster by increasing file size barriers and incrementing batch numbers per process. Offering ads-free workspace and unlimited access to all our services.
Because every IMG need you might have can be our next challenge