Image protection: It's not as difficult as you think
All you need to know about image watermarking and 5 other free ways to protect your images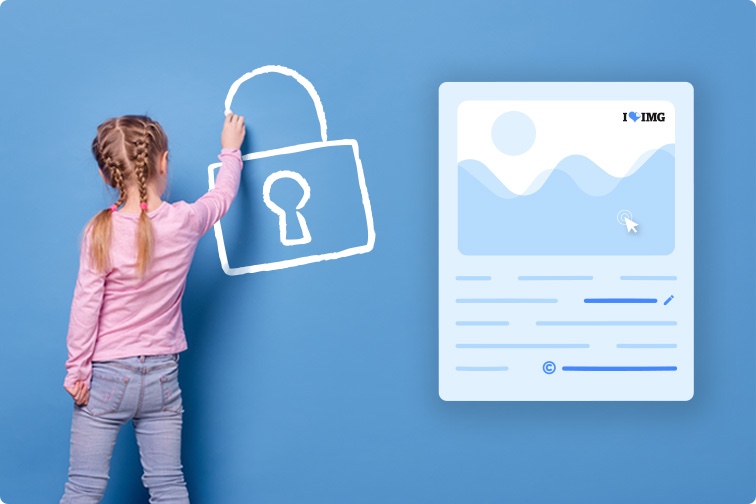 How to create a text watermark for your images
Easily protect the rights of your online photos with a semi transparent text
The easiest way to add some sort of copyright to your images is by adding text with any online photo editing software. Here at iLoveIMG you can protect single or batch images. You can, for instance, tag your name discretely overlaying a small fainted text in a corner or you can stamp it over the entire photo with a mosaic effect for maximum protection.
You can add text and graphics however your creative tastes deem appropriate in order to have a watermark that reflects your identity in the best way possible. To add text, click the Add Text button from the sidebar menu to make the text box pop up. You can personalize the font, size, color, and transparency using the features from the upper menu.
Choose a legible font. Watermarks should be clean in design to avoid distracting the viewer from your photo, but definitely play around with text options to make your text look neat and professional.
Upload your images here
Click the 'Add Text' button to add text
Hit the 'Add Image' button to upload image files
Adjust the size and orientation of your watermark
Lower the opacity and adjust other settings in the toolbar
Click the 'Add watermark' button
Download your watermarked images
How to protect your images with your own logo
Keep your business images safe by stamping the logo of your brand
Want to protect a bunch of your images? You can create a logo watermark with a transparent background that you can apply with ease to all of them at once.
If you run a small business or online project and you don't yet have your own logo we have some good news: There are many logo maker tools that will allow you to make a professional-looking logo within minutes even if you lack graphic design skills. Given the case, we recommend you using a free online logo creator app such as Canva, which comes packed with plenty of hype and fancy pre-made designs.
Once you're done designing, here's how to go about adding it to your photos in iLoveIMG.
Upload your images here
Click the 'Add Image' button to add your logo
Place the watermark logo to where you want it on the photo
Adjust size dragging the corner handles inward or outward
Custom transparency until the logo is semi-transparent
Click the 'Add watermark' button
Download your watermarked images
5 other ways to protect images from being copied
Alternatives to watermarking
1. Upload low resolution images
Using low resolution photos on your website is good for two main reasons: small sized images don't slow down your web page and can't be used for printing purposes since they have low resolution. Even if the image will look great on screens, if printed or enlarged will look grainy and pixelated, so it won't be used for potential theft.
2. Edit EXIF data
Although this method might not be known by most people, it is an easy way to add an extra layer of protection to your images without affecting the composition of your image.
Every image captured by a digital camera contains EXIF (Exchangeable Image File) data. This data basically includes dimensions, device model, exposure time… This data can be edited from the 'Properties' of the image. You can include your name, copyright notice and company information in the existing EXIF data in each of the images you want to protect.
3. Disable right click
The easiest way to save an image from the internet is through right-clicking on it and selecting 'save image as' from the auxiliar menu. This feature can easily be disabled on your website. If you are not tech-savvy, you can easily do so in WordPress with the help of an image protection plugin such as No Right Click Images Plugin. However, if you have some technical skills you can disable the right-click option as well as the dragging function, by adding script to the source code with JavaScript or JQuery.
4. Add protection badge
To share your artwork safely while protecting your intellectual property, you can register your images to display a 'Registered' certification badge with an online tool such as copyrighted.com. The image will show a small badge in a corner which links to the related certificate for further authorship with information about the original work. With a free registered account, you can register up to 5 works per month in order to protect and monitor your digital content.
5. Reverse Image Search
If you have published your images without doing any of the above, you can track your original work using a search engine that offers a reverse image option such as Google and TinEye. You can do that by uploading an image or searching by URL and as a result you will see all the web pages where your image has been featured. Although you'll need to search each image individually, it's worth checking them from time to time, and while it's not always possible to stop people from stealing your images, in some cases they may stop using them on their website if you ask politely.
And, as a final piece of advice, take precaution, but don't be obsessive. Whatever measures you take, nothing will stop someone from stealing your photos if they really want to. However, something as simple as watermarking your images with your website address in an unobtrusive way is already a decent compromise for most people with morals.
Because every image need you have now can be our next challenge