How to download images from a web page in one go
Download and edit photos straight from the web using a Chrome extension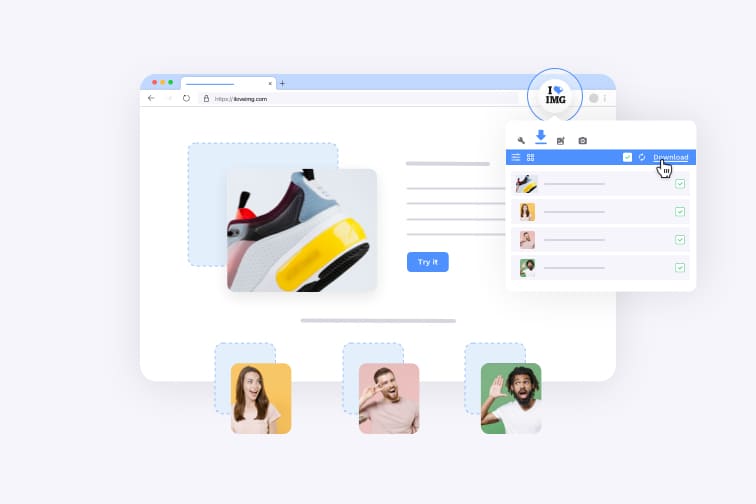 Nowadays Google makes the images you love really accessible. Thanks to infinite websites, blogs and photo platforms like Instagram and Pinterest, finding high quality pics has never been so easy!
However, what isn't so simple is the downloading process. When was the last time you wanted to download all of the photos from your favorite webpage? We all know it's a huge pain having to individually download each one with a right-click - especially if there are more than 20 of them!
Not only that, but what if you wanted to edit all of those images afterwards? The process of downloading them onto your device and then having to upload them all again to your chosen online image-editor can be really time-consuming.
Great pics in 2 clicks
Whether you are a professional photographer, graphic designer, digital marketeer or general photo-lover, the iLoveIMG Chrome extension could transform the way you work and play with images.
iLoveIMG's Chrome Extension lets you to do all of the above -and much more- in just a few clicks. Operating directly within Google Chrome, the extension gives you direct access to your favorite photo editing tools in iLoveIMG, including a 'download-all' option and handy screenshot feature.
The extension lets you download a whole page's worth of images to your device at once. You can also extract images from any website and edit them straight away using your most-loved iLoveIMG editing tools.
How to install the iLoveIMG Chrome extension
Navigate to the 'iLoveIMG Extension' in the Chrome Web store.
Click 'Add to Chrome' to install it in your Chrome browser. The Chrome extension will then be visible by placing a logo icon of iLoveIMG in your navigation bar. This shortcut icon can be managed and organized as you wish via your Google account.
Get quick access to your favorite tools
Once the extension is installed, all of the iLoveIMG processing tools sit conveniently in your browser's navigation bar for easy access while browsing the web. That includes the resize, rotate, watermark, crop, convert, and photo editing tools, as well as our popular meme generator.
Fancy that? All the image processing tools you need, right by your side, whenever you need them.
How to use it?
Navigate to any web page you want and click on the iLoveIMG extension icon. From here you can access any of its 4 tabs:
Shortcuts: Directly access any image editing tool from iloveimg.com

Downloads: Select and download all the images you want from the web

Send to iLoveIMG: Directly process any image from the web with the tools in iloveimg.com

Screenshot: Create full screen screenshots or select a specific region of the screen

iLoveIMG Chrome features
The Chrome extension provides a shortcut to a full suite of image editing tools. Quick to install and easy to use, the extension allows you to:
Directly access all iLoveIMG online tools
Download all images from a web page in just 2 clicks
Resize, crop or convert the format of any image on the web
Download and apply a watermark to all the images in your own blog in a few seconds
Convert any image you visit straight to JPG or vice versa to multiple image formats
Quickly take a full screen screenshot or select a region to capture
How to uninstall it?
Once you have tried it, you will not want to uninstall it. As soon as you start using the Chrome extension, you'll find yourself being more organized, productive and creative with your pics.
If you still need to uninstall the extension, simply right-click on the extension icon in your browser bar and select the "Uninstall" option from the pop-up menu.
We really hope you enjoy using it, and remember that if you have any questions, our friendly iLoveIMG team is here to help. You can contact us.
Get the iLoveIMG Chrome extension
Install now